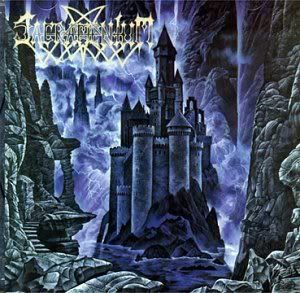 Sacramentum is from Göteborg, but certainly does not have anything to do with the sound that city is known for. This is cold Black Metal in the vein of early Dissection. Far Away From the Sun is their first L.P. and was recorded in Unisound Studios in mid-1995. The production is much stronger than some Black Metal albums recorded in the same studio; i.e. Those of the Unlight, Opus Nocturne, etc. The band is represented very well here.
The album begins furiously, with no intros or anything of that nature. Within the first minute, the skill of these musicians becomes very apparent. The music is violent and melodic at the same time. The atmosphere is cold and nocturnal and is best listened to on a Winter night. Many of the songs begin very fast but the melodies always find their way through the chaos. The tremolo riffs are all around, and dominate the album. The guitar tone is not quite like any other album I have heard. The song structures are more complicated than some bands, with an abundance of tempo changes and atmosphere. Vocally, I have to make the comparison to Jon Nödtveidt. The vocals are in much the same style. There are also brief bits of clean, spoken lines which remind me of Necrophobic's The Nocturnal Silence. The melodies have a classical feel to them, making this album a dark journey through ancient times forgotten. Some old school 80s drum beats are utilized, particularly on "When Night Surrounds Me."
I would compare this to Dissection, Necrophobic (Darkside), and Sorhin; however that is not to say that this sounds just like any of those bands. All too often, it seems that Sacramentum have fallen victim to the label of "Dissection-clone" and this is obviously promoted by those who are too ignorant to see that this record stands on its own, despite being somewhat similar to the aforementioned band. Definitely, fans of the more melodic and nocturnal Swedish Black Metal (as opposed to the blasting, lifeless garbage coming out of there now) will definitely appreciate this. I have to wonder if this album influenced Sargeist at all, because I can even hear similarities there as well.
This album is so good that I cannot recommend individual songs. This is something that needs to be experienced in its entirety. Far Away From the Sun is another Swedish classic of Cold Nocturnal Black Metal.